On

November 3, 2017

Tags:
No Comments
Blue cave Croatia description- THE LIGHT IN THE STONE
About the book "The light in the stone" - Blue cave Croatia description ("U kamenu svjetlo") by Joško Bužanić
Blue cave Croatia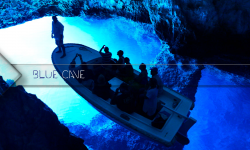 Blue cave Croatia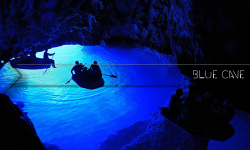 Blue cave Croatia
"U kamenu svjetlo" ("The light in the stone") is not just a rarity, it's a phenomenon in Croatia. It is a book about the Blue cave on Biševo island, Croatia, who's 1st edition has been sold out entirely in just a few weeks, although it hasn't been distributed and sold in the libraries, newsstands or book clubs, but exclusively by a direct order from the author. It was immediately reprinted in even bigger quantities.
Indescribable beauty
The reason, besides the poet and writer Joško Božanić – and spectacular photos by the world famous photographer Ivo Pervan (and 7 more) it the main subject of the story: Blue cave on Biševo island. An additional reason is cultural association "Ars halieutica" from Komiža, Vis island print in English and Italian language (titled "The Azure Sun" and "Nella pietra – la luce" respectively). English version got sold out faster than Croatian and Italian language versions combined.
Although titular natural phenomenon on the sea edge of Croatia attracts approx 100,000 visitors annually to the low inhabited island (Biševo has 8 villages and 7 permanent residents) it sounds almost impossible this was the 1st book, and the only one so far, about the Blue cave, in 132 years from its discovery and revelation to the world: since the Wiena painter by the name of Eugen Barun Ransonnet made it know to the world by publishing the discovery in "Neue Freie Presse" on May 7th1884. by proclaiming there is "miraculous cave of an indescribable beauty " on a small unknown island in Croatia.
Europe's discovery of the Blue cave in "Baluni" bay has, together with founding "Higijenic association" on Hvar island, marked the beginning of organized tourism in Dalmatia. Sure, Blue cave was written about: Petar Kunić has published some important data about the cave in 1932. in his "Vis archipelago guide" but until writer Božanić showed up, nobody has written an entire book dedicated to the cave.
It should be noted the purpose of the book was not of poetic nature nor commercial, but a display of arguments in Blue cave's candidature for the UNESCO sites listing. It was almost the last minute effort since UNESCO has already proclaimed they are "closing" the list entrances for this part of the Europe. In a nick of time. 😊
Blue cave Croatia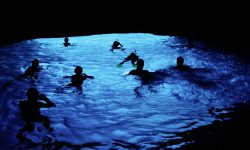 Blue cave Croatia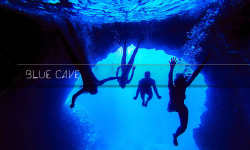 Blue cave Croatia
Cultural exchange
Book "U kamenu svjetlo" is a result of Božanić's years-long research, mostly in Split's and Vienna's archives, as well as his own interdisciplinary research and endeavors. Let us just mention Božanić, a resident professor of stylistics, is also a co-founder of "Humanic studies" and the Philosophy University of Split, along with being a founder of "Interdisciplinary research center of Studia Mediterranea" on Universty of Split. Also, with his project "Falkuša" he showcased Croatian maritime legacy to the world. As a part, he showed the Blue cave in natural, cultural and historical context of Komiža town and Vis island. Also, he presented the Blue cave ad the biggest natural attraction of, not only Vis archipelago but entire Mediterranean archipelago.
Vis island archipelago, part of which is Biševo island (natives called it Bišovo) is a territory with the highest concentration of national monuments of nature, in the entire country of Croatia: a total of six, according to UNESCO.
Culture-wise, Biševo was an important point on the oldest trans-Adriatic route – Diomede's route (named after Troyan hero). It was used by ancient Greeks and Romans, Pope Alexander 3rd and by Benedictine monks. That was a cultural exchange route, impossible to exist without inhabitants.
Athena counseling Diomedes
Biševo - a lonely beauty
Military isolation
Croatia islands' biggest problem is the depopulation: out of more than 1000 islands, only approx 50 of them are inhabited. Recently the oldest inhabitant od Svetac island has died marking the end of millennial life continuity. Post-war isolation helped the depopulation significantly, but Vis archipelago (made of Vis, Biševo, Ravnik, Svetac, Brusnik and Palagruža) kept its natural, Ambiental and cultural values from the impact of frenetic development brought by mass tourism in Croatia and its islands.
Biševo is now facing the fast and ever bigger interest of visitors due to the Blue cave appeal, but that has not resulted in population growth or financial gain for the few remaining inhabitants of the island. Božanić underlines: "UNESCO's protection should include also some stimulative measures of demographic restoration of the island itself, to prevent Biševo from becoming the most visited deserted island in the Mediterranean"
Original article: http://www.jutarnji.hr/kultura/knjizevnost/zasto-je-modra-spilja-na-bisevu-najveca-prirodna-atrakcija-cijelog-jadrana/4661618/
Translated by Angelo Radić, Split Sea Tours CEO, creator of DeLuxe Blue cave tour